Loving Aliveness Retreats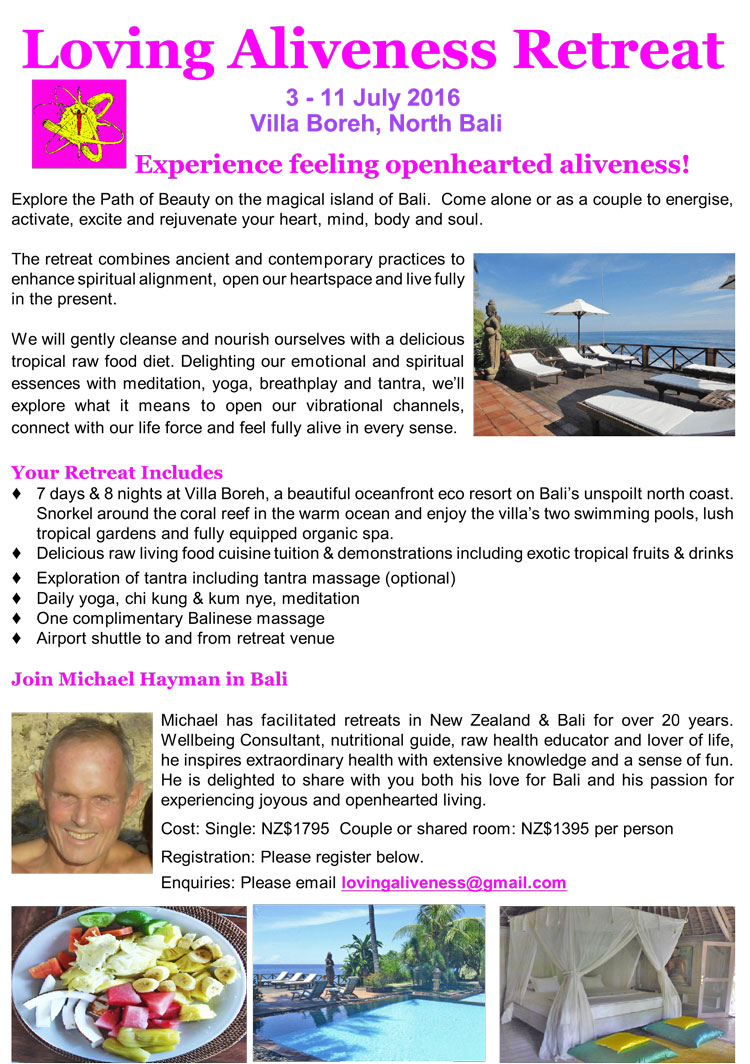 Villa Boreh

Villa Boreh is located about 30kms east of Singaraja in Sembiran, North Bali, 3 hours from Denpasar International Airport and 2 hours from Ubud.

North Bali is quieter and far less touristy than the South and also enjoys more sunshine than other parts of the island.

We'll arrange your pick up from the airport and transport to the venue which will offer you an interesting look at some of Bali's beautiful landscape (unless you arrive late at night of course!). You'll pass by villages, rice fields, lakes and the magnificent Mt Batur volcano along your way as you make your way to the Indian Ocean at the top of the island.

Villa Boreh is a small sweet boutique eco resort owned by a German and managed by Balinese. The place has a warm family feel to it; the Balinese staff are huge hearted, dedicated and incredibly welcoming. Preservation of their environment (the land, the sea, the local villages) is important to them and we're delighted to support this high level of consciousness. Natural cleaning products are used, no chemical insect sprays, the gardens are maintained without chemicals and the veges/fruit they produce themselves are organically grown. Other ingredients are sourced freshly and locally as much as possible.

The lush tropical grounds of Villa Boreh lead down to the ocean where you can watch a beautiful sunrise each morning. The sea is calm and warm with a coral reef just a few metres out where you can snorkel and see an abundance of tropical fish. There are 3 pools, 2 outdoor dining areas (1 oceanside) and 1 covered dining area. We'll have our own private outdoor undercover kitchen where we can prepare raw foods. There is a Spa offering superb massages/facials and other treatments (1 massage is complimentary for each participant) and a beautiful covered outdoor yoga pavilion. Meditation nooks and day beds offer quiet spots for silent contemplation/reading/dozing around the lush gardens. Villa Boreh also has a family of Sumatran toucans! Most of them raised from young as part of an environmental preservation programme. They're incredibly friendly, especially when food is around & you can hand feed them fruit.

Accommodation

There are 4 styles of accommodation available.

1. Stand alone Balinese two storey bungalows, some enclosed and some open air with bamboo screens and mosquito nets for privacy. All rooms enjoy gorgeous private al fresco bathrooms.

2. Traditional-style single storey rooms with ensuites.

3. King size bedrooms with ensuites. These are in a large villa, alongside the yoga pavilion and private plunge pool.
4. African style single storey huts with thatched roofs.

Food

For optimal health, energy and enjoyment, we'll be offering a predominantly raw diet, sourced as much as possible locally and organically. You can participate in its creation and learn more about the benefits and joys of raw food or you can just receive and enjoy! Please let us know of any particular dietary requirements/allergies/dislikes when you register.

About Bali

October is one of the best times to visit Bali. The sun pretty much shines every day, tropical fruit is in abundance (mango, papaya, jackfruit, bananas, young coconuts, watermelons,pineapple, rambutan, durian, etc. The temperature ranges 25 at night to early 30's, the sea about 27 and we'll experience a divine ocean breeze on the coastline.

The predominant religion is Hindu, there are also Muslims & Buddhists. The Hindu tradition celebrates many special dates and holidays - festivity, music and dance play a large part in life and we'll have the opportunity to experience some of this during our stay.

Bahasa Indonesia is the main language spoken but the staff at Villa Boreh all speak a little, if not a lot, of English!

We've been visiting Bali for many years now (Michael, over 40 times since the 1970's!) and are continuing to find fascinating special nooks and crannys around the Island, especially in the Northeast. We'd love to share with you some of what we feel is 'the real' Bali - off the main tourist circuit and trust - should this be your first visit - that you'll fall in love with this magical paradise.

Enquiries: Please email lovingaliveness@gmail.com .

Registration Information

Numbers are limited so please register early to avoid disappointment.

NB. No refunds will be given within 14 days of retreat starting date. Transfers to another retreat may be possible up to 8 days before the retreat starting date which may incur a $50 transfer fee. No transfers are possible after then. If your retreat has to be cancelled you can either receive a refund or a credit.

Please register below